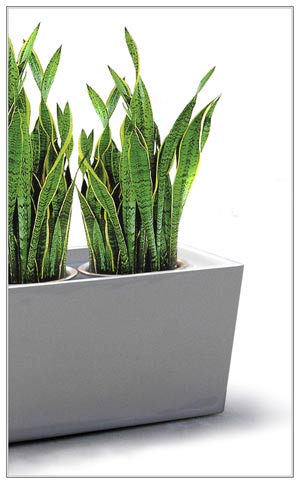 GHP
imports a range of rectangular fibreglass planters.New sizes have been added to our range due to customer demand, like the 1200mm trough, it is now also available in 600mm height.The smallest size is the 850mm long trough, which can be used on raised surfaces like filing cabinets, window sills etc.
This planter has no insert and is available in black only.
Wedge Shape Trough
The next size up is the 1160mm trough with wedge shaped sides. The wedge shape makes this planter the perfect partner in interiors that are using the standard wedge shape planters.
This planter has an insert with 3 x 325mm holes to fit the standard 14" – 350mm grow pot.
At present this planter is available in black or white.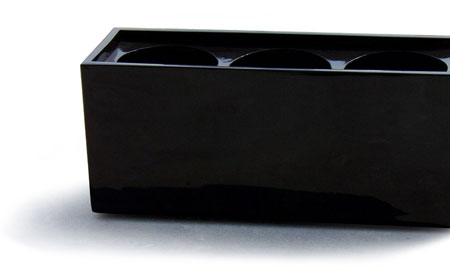 The 1200mm x 430mm wide x 500mm high trough has straight sides.
As with the 1160mm trough this item has an insert with 3 x 325mm holes.One of the features of this planter is that it is available with heavy duty wheels. These wheels are supported inside the planter by a reinforced raised bottom so the wheels are not visible from the outside.With wheels these planters are perfect for venues with large open areas that need to be divided for smaller functions.
With the large rubber wheels they can be moved effortless around function rooms whether the floor is carpeted or a hard surface. Used side by side they form a beautiful partition filed with greenery, instantly transforming a large function room into smaller areas. The standard colour for this item is gloss black, if other colours are required they can be imported to order or sprayed locally at an additional cost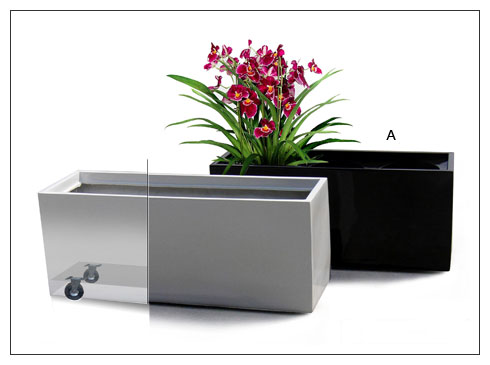 New sizes for this range are being developed constantly, if you have a need for a particular size trough we'll be happy to quote you a price and import it to order.
Please
contact us
for more details.