This new range of fibreglass planters was designed to compliment any interior. Whether you are looking for planters for restaurants, offices or other commercial situations, this exciting new design will suit any style interior.
It combines modern and classic lines in one beautiful shape.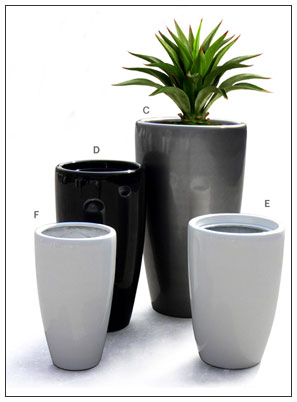 Made from high quality lightweight fibreglass these planters are perfect for the indoor plant hire industry. They are much lighter then ceramic pots of similar design making them perfect for handling them without the risk of injuries, which in today's world of OHS rules makes them virtually the only option for your company.This new design comes in two shapes, a bowl design in 360mm high (without insert) and 430mm height with insert. These removable inserts allow easy access inside the planter while at the same time forming a platform for pine bark or pebbles to finish of the top of the planter.
The
Tall Venetian
comes in 4 sizes:
615mm (without insert)
650mm
825mm
1050mm with inserts
650mm is the most popular size and as such is available in a range of colours, black, white, silver, black pearl and red.
The basic colours for the other sizes are black, white and silver. If you have requirements for a specific colour we can get any colour made to order at no extra cost.

Stock items can be resprayed at an additional cost.
Using this design in clusters of different sizes is also very effective in situations where a large area needs to be covered such as hotel foyers, large restaurants and other large commercial premises. This type of design works particular well in modern colours such as metallic silver, one of our standard colours.
Contact us
if you require our brochure which can be used to show your customers our range of planters.